Wine & Food Festival Tickets
Dates:
November 11th &
November 12th, 2011
Where:
along East Camino Real
Tickets:
- 1 Day Admission to Grand Tasting Launch Party
- 1 Day Admission to Grand Tasting
- 1 Day Admission to Jazz Blues Brunch
- 1 or 2 Day VIP Admission to "Dinner Under-The-Stars" and Grand Tasting
A Culinary Affair on 11.11.11 & 11.12.11
Please your palate, step into your stride and enjoy the largest outdoor Culinary Affair in south Florida during the 2nd Annual Boca Raton Wine & Food Festival on Friday, November 11th and Saturday, November 12th, 2011. This year promises to be a party no one will ever forget with four very special events over two days. Friday night kicks off the festivities with two unique events, the VIP Dinner-Under-the-Stars; 7PM to 10 PM, and the Grand Tasting Launch Party presented by Creekstone Farms; 7:30 PM to 10 PM. Then Saturday begins with the Jazz Blues Brunch from 10 AM to Noon and that evening, 70 chefs from the tri-county area converge upon downtown Boca for the incredible Grand Tasting event; 6 PM to 10 PM.
As you stroll down East Camino Real on Saturday feeling the balmy breeze while the sun sets you will be embraced in sensory delight. The 1/3 Mile Distance will be transformed into a lavish walkway of elaborately decorated countries and regions that come alive through a gastronomic journey of tastes, sounds and visions! Meet and mingle among 70 Chefs from the tri-county area as they prepare their most beloved dishes from 6 world Regions and a Sweet Endings Village. Premier vintners will offer tastings of some of the world's best wines. Cultural music and décor will take you to places afar with live cooking demonstrations, sensory tasting classes presented by our Festival Sommelier, garden market, retail and business shopping bazaar and an outdoor art gallery. During the evening enjoy Live Entertainment and dancing at the Main Entertainment Stage.
The Grand Tasting on Saturday will be a true Culinary Affair!
This year on Friday night we are introducing an exclusive VIP "Dinner Under-The-Stars". It's about atmosphere. It's about food. It's about wine. And now, 7 south Florida chefs are bringing their culinary talents to the table. Friday evening will include a four-course dinner prepared live to please your palate as you are introduced to perfectly paired wines by our seven Sommeliers. VIP guests will choose the region of their choice for the evening; France, Asia Pacific, South America, Italy, America, Spain or Vegan Fare & Organic Wines in the India decorated region. After your culinary experience, you'll make your way through our garden market, retail and business shopping bazaar, art gallery and a silent auction. Afterwards you'll head to the Reception area for Entertainment and Dancing while enjoying a Sweet Ending to your evening. VIP guests also have FREE access to the Grand Tasting Launch Party at the Main Entertainment Stage and Lounge. Limited seating available to ensure an intimate experience.
The VIP "Dinner Under-The-Stars" will fill up quickly so please make your selection today.
If you want to take advantage of the experience that we have created join us on Friday night for the Grand Tasting Launch Party. This will be a fun-filled affair for a limited number of guests, who will enjoy a lavish selection of beef dishes prepared using event sponsor Creekstone Farms' natural premium Angus beef. They will also savor great salads, vegetable platters, artisan breads, sweet treats, multiple wine, beer and spirits bars, and live entertainment by the Urban Gypsy Band.
Friday will definitely be amazing, we created a night with two different price points, but with equally exciting appeal for everyone to enjoy!
And, for those of you who like to wake up on Saturday mornings to enjoy a delectable brunch we have the perfect atmosphere waiting for you! Start your Saturday at our Jazz Blues Brunch. "We just added this new event," said Spadaccini. "And the response has been tremendous. Being able to experience a brunch in this type of setting is going to a memorable experience.
The brunch, also sponsored by Creekstone Farms, will feature "unlimited" steak, potatoes, eggs and delectable desserts along with Champagne, Mimosas and Bloody Mary's. The Urban Gypsy Band, a eclectic jazz trio, performs a style of urban rhythms from around the world on the Main Entertainment Stage.
The Annual Boca Raton Wine & Food Festival brings you face-to-face with those who have made their lives -- their craft. This is the time for you to dine, drink fine wine and experience A Culinary Affair like no other!
2011 FESTIVAL SCHEDULE FOR "A Culinary Affair"
Friday, November 11th
- VIP "Dinner Under-The-Stars" - 7 PM to 10 PM - Grand Tasting "Launch Party" - 7:30 PM to 10 PM Saturday, November 12th - Jazz Blues Brunch - 10 AM to Noon - Grand Tasting - 6 PM to 10 PM



---

Purchase Festival Artist Dana Donaty's

Commemorative 2011 Festival Poster





---
---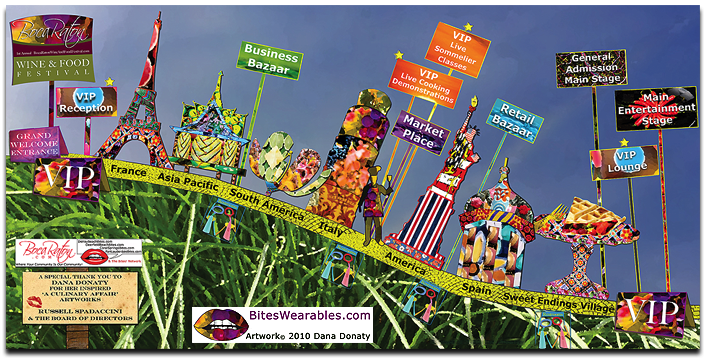 ---