OCEANS 234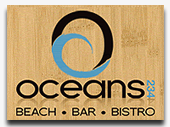 OCEANS 234
Beach • Bar • Bistro

Lunch • Dinner • Indoor & Outdoor Dining
• Live Entertainment • Private Events • Brunch

OCEANS 234 has earned the reputation as one of the most beautiful Deerfield Beach restaurants on the beach. If you are looking for the best event venue for your holiday party come and enjoy our Deerfield Beach restaurant on the water. You can relax in our confortable setting while enjoying the sights, aromas and tastes of the sea. Our motto is 'We are more than just the View!'
---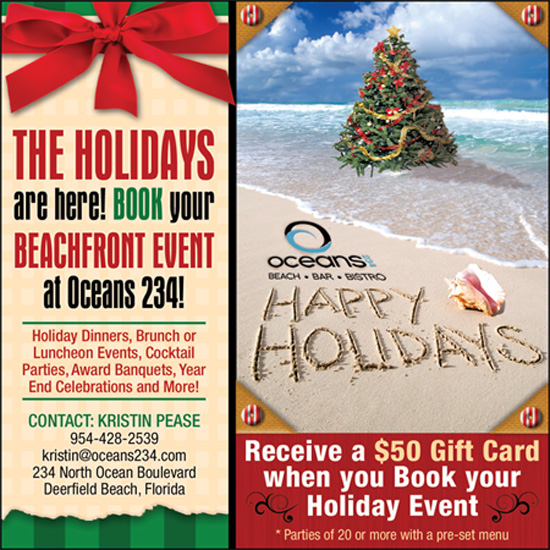 Click to Enlarge

Contact Kristin Pease, Event Manager at 954.428.2539
Email: Kristin@Oceans234.com
---
ALL NEW CHAMPAGNE BRUNCH ON THE BEACH
Relax on the beach for brunch on Sunday's from 10 AM - 2 PM.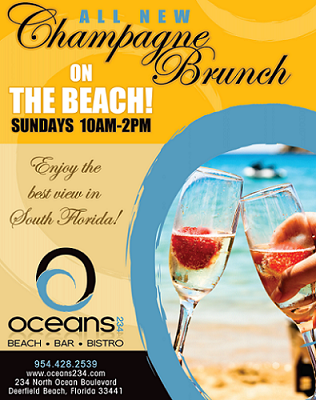 ---
OCEANS 234's ATMOSPHERE
Relax in our confortable beachy setting and savor Chef Johnny's insired cuisines. The sights, especially the sunsets, the aromas and tastes will awaken your senses with an unparalleled dining experience. OCEANS 234's warm and inviting atmosphere has a casual feel with a fine dining setting.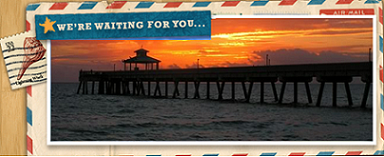 ---
OCEANS 234 SIGNATURE DISHES
Chef's Special Risotto, Sushi Rolls and our famous Lobster Mac & Cheese: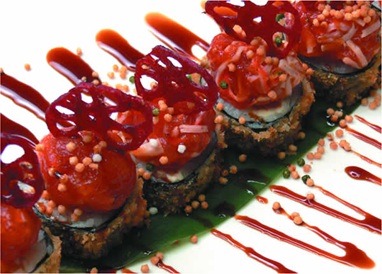 ---
OCEANS 234 MENU
Click on the 'Menu' to see OCEANS 234 mouth watering entree's. Select from the Bar Bites, Appetizers, Dinner, Green Things, The Beach Kids Menu, Lunch Menu, Sushi Menu and our Sunday Champagne Brunch!
---
RESTAURANT PROFILE
Atmosphere: Casual
Cuisine: Seafood, Sushi, Bar & Grill
Entertainment: Yes
Friday Happy Hour – Live Entertainment from 4 - 8 PM
Friday Night – Live Entertainment from 9 PM - 2 AM
Saturday Night – Resident DJ HaStyle spins from 9 PM – 3 AM
Sunday – Live Entertainment from 4 - 8 PM
Brunch: Sunday - 10 AM to 2 PM
Catering: No
Delivery: No
Take-Out: Yes
Children's Menu: Yes
Outdoor Seating: Yes
Boat Accessible: No
Pet Friendly: Yes
Location: Beachfront Dining
Price: $$$ out of $$$$$
Website: OCEANS234.com
Phone: 954.428.2539
Accepts Reservations: No
Payment Options: Major Credit Cards Accepted
Chef: John DiSiena
Valet Parking: Yes, $3
Private Party Contact:
Kristin Pease, Event Manager: 954.428.2539
Hours of Operation:

Dinner:
Sunday - Thursday | 4:00 PM - 10:00 PM
Friday - Saturday | 4:00 PM - 12:00 AM

Bar:
Sunday - Thursday | 11:30 AM - 12:00 AM
Friday - Saturday | 11:30 AM - 3:00 AM

---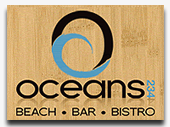 OCEANS 234
234 N. Ocean Boulevard
Deerfield Beach, FL 33441
Ph. 954.428.2539 | Fax. 954.428.1086
Web: OCEANS234.com
Email: Kristin@Oceans234.com
contact: Kristin Pease
address: 234 N. Ocean Boulevard
address: Beachfront Restaurant
city: Deerfield Beach state: FL zip: 33441
phone: 954.428.2539 fax: 954.428.1086
email: Kristin@Oceans234.com
url: OCEANS234.com