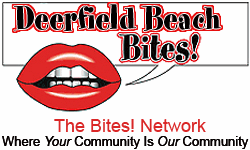 Welcome to Coral Springs Bites!
Where Your Community Is Our Community!
DeerfieldBeachBites.com is the ultimate destination for your South Florida Marketing and also your one-stop-shop for Multimedia Mastering. DeerfieldBeachBites.com will take your business presence to the next level by connecting you with your target audience via our expansive Community Portal Network. DeerfieldBeachBites.com specializes in the following complete marketing solutions to help better server your business:
Local Internet Marketing
Video Production
Managing Relationships
Business-to-Business Networking
Search Engine Optimization (SEO)
Target Marketing
Special Events | On Premise Promotions
Sales | Marketing Programs
Business Consulting
Networking
News Wire Press Release
Editorial Content
Business and Restaurant Reviews
E-mail Newsletters
DeerfieldBeachBites.com has formed strategic alliances with Community Partners such as the South Florida Business Journal, Jobing.com, Local Chambers of Commerce, Arts and Entertainment Channels, Non-Profit Organizations, Educational Institutions, as well as Media Outlets.
Whether for business or pleasure, DeerfieldBeachBites.com Community Portal Network provides viewers with pertinent information related to South Florida Local Events, Dining Establishments, Shopping & Style, Business & Finance, City Guides, Health & Beauty, Real Estate Listings, as well as a Boutique Online Store.
Bottom line: By becoming one of DeerfieldBeachBites.com's Community Partners, your web visibility is instantly improved. Get connected today and unleash your company's untapped marketing potential.
Coral Springs Bites!
Total Marketing Campaign
Through extensive research, this powerful, all-inclusive, interactive marketing and advertising vehicle is designed to enable our business partners to expand their Internet presence and gain greater visibility in their local community.
DeerfieldBeachBites.com understands that each business has different objectives and goals. All of our clients receive special attention in the creation and deliberate execution of their custom TMC.

Our Method
Local Internet Marketing with
Search Engine Optimization SEO
All of the advertisers within the Community Portal receive unique content within the site that is keyword tailored for their respective business and service offerings. With regularly update keyword optimization we can slingshot your business to the top of the Search Engine Results Pages (SERP).
DeerfieldBeachBites.com enhances your company's presence on both a global and local level. DeerfieldBeachBites.com hosts a web of interconnected pages of global and local content therefore our web site gains a higher ranking in the search engines when Internet users are searching for keywords relative to local areas of interest.

Business-to-Business Networking
Beyond the web, our presence extends into the tactile world of person-to-person relationships. We are active members in the South Florida Community. Whether we are covering a music festival in West Palm Beach or a Fashion Show in Miami, our Community Partners are with us, either in person or in full color print advertisements.
Event planning is another way that we bring our Community Partners in contact with their target market. Last summer we hosted a fantastic Fashion Show which was held on Fort Lauderdale Beach. The crowd gathered with excitement and several of our Community Partners were able to present their newest fashions on our runway before a live audience as well as major media outlets including the Sun Sentinel.

Video Production
Video has completely transformed the online experience. As evident in the major television networks' attempt to satisfy their audience through downloadable and streaming content, the Internet has matured. Today, 1 out of 5 Internet users are watching video content online. DeerfieldBeachBites.com markets web sites similar to a television network at a fraction of the cost utilizing our Media Production Team.
Do you have video files or marketing material sitting on your web site with minimal traffic and exposure? Get connected with our Video Broadcasting Services (V.B.S.). DeerfieldBeachBites.com V.B.S. is a natural extension of our strategy to deliver the ultimate experience to web users and a powerful marketing and distribution platform for content, advertisings and business service providers.
To keep your business on the competitive edge means presenting your business effectively on the Internet through Creative Multi-Media Content, Original Video Programming and Local Internet Marketing. DeerfieldBeachBites.com own Media Production Team will assist you every bit to bring your business message across. Our access to professional talent provides excellent acting, voice over narration, and scripting for all types of Video Programming.
In addition, DeerfieldBeachBites.com has hosts to accommodate all areas of our Video Programming. For instance, if you specialize in the Health and Beauty field, our very own Style Dr. is available for informative advertorial content.
Thank you for your time and interest in DeerfieldBeachBites.com!
We look forward to growing your business
'one click at a time'!