Green Energy threatened by Economic Turmoil
southflorida.bizjournals.com
By Paul Brinkmann
Solar power retailers in South Florida are benefiting from Congress' recent vote to extend renewable energy tax credits. But, roadblocks to the lofty ideal of launching a green energy economy still exist, slowing plans outlined by Gov. Charlie Crist at his climate change summits over the past two years.
First, the global credit crisis makes investing in new power sources more difficult. Second, the state's looming budget deficit threatens to choke funding for renewable energy incentives.
"Until Congress acted recently, the solar power business in the U.S. was basically moving overseas," said Yann Brandt, VP at Advanced Green Technologies in Fort Lauderdale.
The U.S. government has encouraged solar power with tax credits for years. Congress extended those credits in September after a year of bickering over where the money would come from. The delay created panic and slowed sales in the industry.
Many in the solar industry say it's no coincidence the new package was signed on Sept. 26 as part of the Emergency Economic Stabilization Act of 2008. The emergence of a new economy based on varied sources of energy is key to new growth.
AGT sells and installs solar roofing panels to commercial customers. Brandt said the company was increasingly tempted by European offers for inventory as the U.S. credit extension neared its deadline.
The new tax credit program was extended for eight years, long enough to allow advanced planning. Congress removed a $2,000 cap for residential properties, and extended a 30 percent credit on the purchase of solar and wind systems. It also included utilities in the program.
Bruce Kershner, executive director of the Florida Solar Energy Industries Association, is upbeat about the future despite the economy.
"Whether you're a contractor, installer or manufacturer, what this means is [the nation] has now realized the importance of solar," he recently said.
Residential customers at the Energy Store in Hollywood decide whether to invest $50,000 in a solar panel system to cut their annual electric bill by one-quarter or one-half, owner Paul Farren said.
Or, they might decide to spend $5,000 on a solar hot water unit. The extension of the federal tax credit means applying 30 percent of that expense to taxes in April – crucial to some buyers. Farren said the tax credit extension should help his business.
"It should make the packages a lot sweeter," he said.
A state rebate for renewable energy could mean an additional $500 off the solar hot water heater. The program grew from $2.5 million the first year to $3 million this fiscal year, but that money was snapped up on the first day. There's now a backlog for future allocations.
The state also passed a new mandate recently to allow utility customers to sell power back to their utility when their solar units are cranking on strong sunlight. AGT is doing that, Brandt said.
Other Crist initiatives in Florida are moving ahead. Voters could approve a new state tax program for renewable energy on Election Day. Amendment 3 would prohibit property tax hikes for improvements related to wind damage resistance and the installation of renewable energy source devices.
Miami attorney Roy Wasson, who manages a renewable energy fund for investors, said the federal tax extension improves the outlook for his fund, but the credit crisis is still weighing it down. READ MORE!

Gas, Economy spells trouble for Car Dealerships .southflorida.bizjournals.com

By Oscar Pedro Musibay

High gas prices and the credit market meltdown have largely caused the perfect storm for car dealers. Two sites in south Miami-Dade County are now on the market – and as many as 12 may soon join them, one brokerage says.

Colliers Automotive Real-Estate Services Group, run by Coral Gables-based Colliers Abood Wood-Fay, is marketing the Auto City General Motors dealership across from The Falls.

Brokerage President Mike Fay said there are 12 other dealers in Miami-Dade and Broward that are interested in selling their sites.

Auto City is also looking to sell its 4-acre site at South Dixie Highway and Southwest 305th Street in Homestead.

Both sales are part of a consolidation strategy. Operations are being moved into the Saturn dealership at Southwest 200th Street and South Dixie Highway. All the GM brands will be under one roof, said CB Richard Ellis Senior VP Paco Diaz, who is marketing GM's site at 305th Street.

Industry analysts have seen the writing on the wall for some time. Global business advisory firm AlixPartners reported in a May study that the weakened dollar, higher manufacturing costs and a slowdown in auto sales were conspiring to turn 2008 into one of the auto industry's toughest years. The study predicted a drop-off of 1 million units for the year. Consumers were also switching from trucks and SUVs to smaller, lower-margin vehicles, resulting in less revenue for the automakers.

As a result of consolidation trends, the remaining dealers are not likely to weigh in to pick off their competitors. But, Colliers has no shortage of interest in the site near The Falls.

The GM property, at 13401 S. Dixie Highway, covers 5 acres and is being marketed for sale at $23 million. That's a far cry from the 4 acres GM owns to the south, which has a list price of more than $4 million.

Colliers senior director Owen Cone said the price for the parcel across from The Falls is justified because of its proximity to Palmetto Bay and Pinecrest, two of Miami-Dade's wealthiest enclaves. The high volume of car traffic that frequents the area also adds great value, specifically for anyone seeking to develop retail.

Cone said the ideal redevelopment would be a vertical retail complex like Dadeland Station, which features a handful of big boxes, including Best Buy and Target. He is currently in negotiation with three potential buyers. Cone would not comment on whether Jeff Berkowitz, developer of Dadeland Station and another similar project on South Beach, was in the running.

Diaz also sees the retail potential for the GM site he is marketing in Homestead. He said the 4-acre property is zoned for the city's highest density, which would make it suitable for a mixed-use commercial project. It's also in a high-traffic area where two shopping centers, one anchored by Publix and another by Sedano's, are located.

Colliers is helping to broker the sale of Coral Gables Lincoln Mercury, at Ponce de Leon Boulevard and Bird Road, to commercial developer Hines. Hines has the property under contract, confirmed Judy Zeder, a real estate agent with Esslinger Wooten Maxwell. She would not talk price or provide other details, referring questions to Jay Ziv at Colliers. READ MORE!

Miami Center of Real Estate Universe
southflorida.bizjournals.com
By DARCIE LUNSFORD
For four days in October, Miami Beach will be the global epicenter of the real estate industry.
More than 5,000 real estate developers, brokers, bankers, investors, architects, lawyers, planners and politicians are expected to attend the Urban Land Institute's annual fall meeting at the Miami Beach Convention Center, Oct. 27-30. This is the first time the high-profile industry conference has been held in metropolitan Miami. It's also likely to be the area's largest business gathering of the year.
"It is certainly a big deal for South Florida," said Miami real estate lawyer Neisen Kasdin, chairman of ULI's local arrangements committee. "Arguably, this is one of the most important real estate gathering in the world."
He said the conference, held previously in cities such as Las Vegas, Denver, San Francisco and New York, draws executives from the world's top development companies, sovereign wealth funds, investment houses and architecture firms.
"Just to have all this global real estate and land development fire power in Miami all at one time is unprecedented," Kasdin said. "I am sure that there will be marriages made, and deals will come from this meeting."
At the heart of the discussion and programming is the financial crisis pummeling real estate, banking and rest of the economy.
"We have redone the whole meeting to react to it," said Richard Rosan, president ULI Worldwide. The fall meeting is the 400,00-member Washington, D.C.-based think tank and industry group's biggest event.
Rosan said many sessions would focus on understanding, navigating and surviving the real estate meltdown and financial collapse.
Former Federal Reserve Chairman Paul Volker, former Mexican President Vicente Fox, former assistant U.S. Secretary of State James Rubin and his wife, CNN correspondent Christiane Amanpour, are among the high-profile speakers.
The conference also promises to be an economic shot in the arm for the South Florida.
ULI officials in Denver, which hosted the event in 2006, estimated that conference attendees spent at least $4,000 on the trip.
"That is probably a very conservative estimate," said Michael Leccese, executive director of ULI in Colorado. "This group tends to wine and dine and fill up the best restaurants in town."
That conference drew 6,200, generating $24.8 million in economic bang. South Florida attendance is expected to be slightly lower, though, due to the current economic pressures on businesses and government agencies, ULI executives said. READ MORE!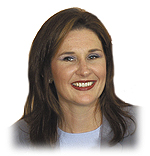 Darcie Lunsford's Hair Services provided by:
Wild Hare Salon and Spa | 2120 St. Andrews | Boca Raton

South Florida Business Journal
ARCHIVES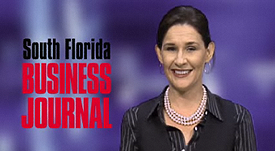 South Florida Business Journal Archives
SouthFlorida.BizJournals.com.