Julia Neyman from the South Florida Business Journal
reports from U-Gas Gas Station in Miami, Florida.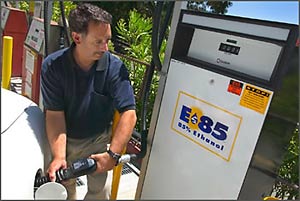 Julia Neyman South Florida Business Journal
Don Prestella, fleet operations supervisor at Lawrence Berkeley National Laboratory, fills a lab vehicle tank with ethanol-based E-85 after LBNL became the first ethanol dispensing station in Northern California in July 2004. (Photo courtesy LBNL)
Thanks to GM's Pioneering efforts to make cleaner E85 ethanol a viable alternative to gasoline, there are over 2 million GM FlexFuel vehicles on the road that are capable of running on E85. E85 ethanol is a blend of 85% ethanol and 15% gasoline, is a mostly renewable fuel that can be made from U.S. grown corn.
---
U-gas company officialy started offering E-85 for sale to the general public as of yesterday here in Miami. The performance benefits of E-85 fuel is well documented.
On Thursday, the U-Gas station at 210 NW 79th Ave. in Miami-Dade County, near the Mall of the Americas, will begin selling E85 fuel for flex fuel vehicles, making it the first South Florida service station to offer E85 ethanol to the public.
E85 is a mixture of 85 percent ethanol and 15 percent gasoline that can be used in cars and trucks specially designed to run on the renewable fuel.
Until recently, E85 has been available predominantly in the Midwest, which produces the corn it's typically made from in the United States. But as supplies have grown, the fuel is beginning to reach the Northeast and Southeast in larger quantities.
''Ethanol is the future. It's renewable energy and it's the correct thing to do,'' said Willie Urbieta, whose family-owned company, Urbieta Oil Co., operates the U Gas station that will debut the E85 fuel Thursday.
Urbieta said it's costing his company roughly $50,000 to retrofit the U Gas station to sell E85 fuel, including changing the hoses, nozzle, valves and meters.
He expects to make the E85 fuel available in six to 12 South Floria stations by the end of 2008, choosing locations near major thoroughfares like Interstate 95 and those in ZIP codes where residents have a significant number of flex vehicles.
''We're a small family-owned business, and we're very aggressive. We see the future is renewable energy,'' Urbieta said. ``And it's politically correct not to give money to those unfriendly governments.''
U Gas will be offering the E85 at a special price of 85 cents a gallon from 7 to 9 a.m. Thursday and Friday. E85 normally fetches about $2.55 a gallon.
The launch of E85 at the independent station was coordinated with an E85 forum Wednesday at Florida International University, where a panel of experts stressed the need for the United States to adopt ethanol and other alternative fuels in the face of dwindling fossil fuel supplies and geopolitical uncertainties.
Mary Beth Stanek, director of environment and energy at General Motors, who joined the panel of experts at the FIU forum, said the arrival of E85 in South Florida marks an important beginning for the region.
GM, which has 14 vehicles that run on E85 fuel in its 2007 lineup, is providing marketing assistance to U Gas and other service stations around the country to encourage the foray into E85. Stanek said about 11,317 GM flex-fuel vehicles are located in the South Florida area.
Nobody is predicting that ethanol will be a magic bullet that can quickly supplant gasoline in the near- or midterm.
Dr. George Philippidis, director of the Center for Energy and Technology for the Americas at FIU's Applied Research Center, pointed out at the forum Wednesday that if all the corn in the United States were to be turned into ethanol, it would replace only 12 percent of the U.S. gasoline currently used.
Miami Herald | Martha Brannigan
South Florida just got a bit greener!