Seminole Hard Rock Hollywood
Florida's Only Real Casino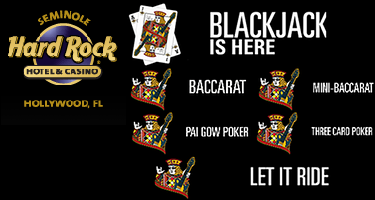 Anyone in the mood for 'Blackjack, Three Card Poker, Baccarat, Mini-Baccarat, Pai Gow Poker, or Let it Ride'?
If you were not seen at the SEMINOLE HARD ROCK HOTEL & CASINO in HOLLYWOOD on Sunday, June 22, 2008 then that means you missed the spectacular 'Grand Opening' of the BLACKJACK tables at this Florida Casino. Celeb sightings galore highlighted this exciting evening as Carmen Electra and her Fiancé, Rob Patterson (of Korn) hosted THE FIRST BIG DEAL!!. Michael "Let's Get Ready to Rumble" Buffer announced for this amazing event that was exclusive at Seminole Hard Rock Hollywood.
Head down to Hollywood Hard Rock Casino and experience the first legal games of Blackjack, Baccarat, Mini-Baccarat, Three Card Poker, Let it Ride, and Pai Gow Poker. Former Prince protégé, Baywatch babe, and actress, Carmen Electra was there to host the event as well as her fiancé, Rob Patterson of Korn as they hosted the first official Blackjack deal.
Talk about a red carpet star studded affair! Celebrities that were on hand to help celebrate this event were: Nat Moore, Dywane Wade, Howard Schnellenberger, Gino Torretta, Zach Crockett, Bob Kuechenberg, Eddie Jones, Heather Graham, Alonzo Mourning, Bernie Kosar, Lorraine Bracco, Kimbo Slice, O.J. McDuffie, Cornelius Bennett, Henri Crockett...and the list goes on.
THE FACTS:
With the Opening of 71 new tables all together; 55 are dedicated to Blackjack, six to Three Card Poker, three to Pai Gow Poker, three to Let it Ride, two to Baccarat and two to Mini- Baccarat. The addition of blackjack, baccarat and other table games catapults the Seminole Hard Rock Hotel & Casino Hollywood into the ranks of the world's top casinos. With slots, poker, blackjack and baccarat, the Hard Rock now offers the most popular casino games, favored by more than 90 percent of casino players.
More than 800 Blackjack dealers, supervisors and others were hired for the launch of Blackjack and other card games at the Seminole Hard Rock Hollywood. Seminole Hard Rock Hotel & Casino Tampa will debut the games in late fall of 2008. No dates have been announced for the launch of Blackjack at the other Seminole Casinos.
This Event began with Seminole Gaming CEO Jim Allen, Carmen Electra and Rob Patterson who were joined by members of the Seminole Tribal Council.
Seminole Hard Rock Hotel & Casino is South Florida's only real casino and leading entertainment destination featuring 71 tables offering Blackjack, Baccarat, Mini-Baccarat, Pai Gow Poker, Three Card Poker, and Let it Ride. More than 2,500 of the most popular Vegas-style slots and games are available to play on its 145,000-square-foot casino floor, including Multi-Area Progressive Jackpots and Mega Jackpots.
The Poker Room at Seminole Paradise is a 12,000-square-foot private room offering no-limit Texas Hold 'em, limit Texas Hold 'em, Seven Card Stud and two dollar and four dollar limit Omaha Hi Lo games. This casino also offers a non-smoking room and a high-limit gaming room with a cashier booth, check cashing services, and safe deposit boxes. The high-limit room also includes a VIP Plum Lounge exclusive area for loyal Seminole Hard Rock Hotel & Casino Players Club members and a celebrity show kitchen. This Four Diamond, AAA-rated, 500-room hotel offers 16 restaurants and lounges, 40,000 square feet of meeting room space, a full-service, European-style spa, and 23 retail shops, 11 nightclubs, and Paradise Live—a 600 seat venue with classic music album performances in Seminole Paradise.
Table Games • Press Release
Table Games Fact Sheet • Press Release
Seminole Hard Rock Hotel & Casino
1 Seminole Way
Hollywood, Florida 33314