South Florida Center For H.O.P.E, Inc.
1898 W. Hillsboro Blvd, Suite H
Deerfield Beach, FL 33442
Phone: 954.571.9392
SFCenterForHope.com
Did You Know?
Hyperbaric Chambers
In South Florida
Treat the following:
Crohn's Disease
Tinitus
Fibromyalgia
Lyme Disease
Multiple Sclerosis
ALS
Sports Injury
Seizure Disorder
Migraine Headaches

Stroke
Brain Injury
Autism
Cancer Treatment
Cerebral Palsy
Spinal Cord Injury
Near Drowning
RSD
Post Surgical Healing
---
Hyperbaric Oxygen Therapy
And It's Uses.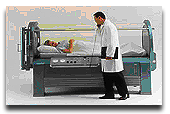 Hyperbaric Oxygen Therapy also known as (HBO2, HBOT or Hyperbarics) has been treated to patients since the early 1900's. This medial treatment has had the claims to of helped patients with autism, stroke, brain injuries, cerebral palsy, senility, cirrhosis,AIDS, arthritis, sports injuries, multiple sclerosis, air or gas embolism, Lyme disease, burns, closed head injuries, blood loss, smoke inhalation and gastrointestinal ulcers. Most health insurance policies cover medically approved uses of HBOT. Recently, Medicare and Medicaid have begun to cover them as well.

Hyperbaric Chambers in South Florida include: Palm Beach Hyperbaric, Hyperbaric Chamber Fort Lauderdale, Hyperbaric Chamber Miami.

Call 954.571.9392
To Learn More About
Hyperbaric Oxygen Therapy
---
We Welcome You To
SOUTH FLORIDA
CENTER FOR H.O.P.E.
Offering state-of-the-art hyperbaric Oxygen therapy treatments since 2002, The South Florida Center for H.O.P.E. has a conveniently-located free standing Hyperbaric Oxygen Therapy center in Deerfield Beach, Florida. This is one of the only Medicare accredited facilities in which this center must abide by all rules and regulations as-is required by that of a hospital facility including routine maintenance checks by the manufacturers of the Hyperbaric chambers, regular visits from AHCA and Medicare agents and frequent fire marshal visits.
South Florida Center for H.O.P.E.'s network of well-educated and empathetic physicians have diverse, extensive backgrounds and participate in each patient's plan of care from doctor-to-doctor conferences to simple every day interactions. The qualified technicians on hand are certifiably trained in Hyperbaric Oxygen Therapy with a vast array of medical influences to care for patients of all ages and diagnoses.
---
Hyperbaric Therapy
Insurance Coverage

Do you need Hyperbaric Therapy treatment and not sure if your insurance will cover the cost? If your a Medicare carrier then this could be for you!

The South Florida Center for H.O.P.E. prides itself in being one of the first free-standing Hyperbaric Oxygen treatment facilities to have been accepted as a Medicare Provider. This distinction has afforded the center the opportunity to become providers for most major managed care insurance companies thereby offering our patients a better probability of receiving reimbursement for many of the neurological disorders. We are here to assist each and every patient with their insurance needs, overseeing the reimbursement process from start to finish.
CONTACT US TODAY
With Insurance Questions About
HYPERBARIC TREATMENT!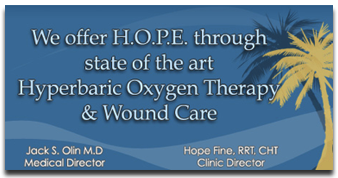 The devoted administrative staff at South Florida Center for H.O.P.E. are always available to assist patients and families with their individual needs including general questions, assistance with insurance reimbursement, scheduling conflicts and Hyperbaric Oxygen Therapy treatments.

Meet Hope Fine, she is the on-site clinical director and has served the healthcare industry for over 30 years. Hope started her Hyperbaric career by opening a hyperbaric oxygen therapy unit in a local hospital. Then, Hope worked for Dr. Richard Neaubauer. She is well known and highly respected in the South Florida medical community. With the knowledge Hope has gained, she ultimately opened the South Florida Center for H.O.P.E. (Hyperbaric Oxygen Producing Environment).
Because the South Florida Center for H.O.P.E., is a free-standing facility, we have the opportunity to treat a spectrum of diagnosis including, but not limited to Autism, Cerebral Palsy, Stroke, Traumatic Brain Injury, PTSD, Multiple Sclerosis, Lyme Disease, Spinal Cord Injury, Near Drowning, Fibromyalgia, Migraines, Sports Injuries, Pre and Post Cosmetic Surgery and Cancer, as well as Non-healing Wounds, Radiation Injury, and Carbon Monoxide poisoning.
Suffering From Autism?
Burns? Post Surgery?
Call 954.571.9392
To Enquire About HYPERBARIC THERAPY

Monoplace Chamber Benefits
South Florida Center For H.O.P.E.
exclusively offers Monoplace Hyperbaric Chambers.
Each patient is treated at a protocol specified for that particular patient. Unlike Multiplace Chamber where all patients must dive at the same protocol.
Technicians can easily monitor all patients.
The Isolation of patients insures that there is no amplification or spread of disease or infection from other patients.
This treatment is ideal for patients confined to bed in acute stages of illness or injury.
All patients can enjoy a more comfortable and relaxing treatment. Multiplace chambers require an awkward and restraining facemask. Our Monoplace Chambers do not.
All patients are cared for individually thereby maintaining patient privacy.
There is NO special decompression procedures required.

Is this the right treatment for you? Would you like to learn more how this procedure "could be right for you"? Don't hesitate to call up the South Florida Center For H.O.P.E. if you have questions or interested in learning more about Hyperbaric Oxygen Therapy. We are conveniently located in Broward County in Deerfield Beach, FL. Let us tell you why this might be a good treatment for you or your loved one. The dedicated professional staff on hand are here to answer your questions, and address any of your concerns. Visit or call us today 954.571.9392


South Florida Center For H.O.P.E, Inc.
1898 W. Hillsboro Blvd, Suite H
Deerfield Beach, FL 33442
Phone: 954.571.9392
SFCenterForHope.com
Related Topics
Hyperbaric Oxygen Chamber Autism, Hyperbaric Oxygen Cancer, Hyperbaric Oxygen Cerebral Palsy, Hyperbaric Oxygen Crone's, Hyperbaric Oxygen Fibromyalgia, Hyperbaric Oxygen Lyme Disease, Hyperbaric Oxygen Multiple Sclerosis, Hyperbaric Oxygen Sports, Hyperbaric Oxygen Near Drowning, Hyperbaric Oxygen Stroke, Hyperbaric Oxygen Tinnitus, Hyperbaric Oxygen Brain Injury.