Boca Raton Community Hospital has ousted its CEO for the second time in less than a year.The nonprofit hospital said Oct. 2 it hired Jerry Fedele as president and CEO of BRCH Corp., which oversees both the 400-bed hospital and its fundraising arm. He was a managing director at FTI Healthcare, a Brentwood, Tenn.-based consulting firm that BRCH hired in June to help turn around its operations. Fedele led a financial turnaround at a major hospital system in Pittsburgh before he resigned under pressure in 2007. In addition, the hospital hired Karen Poole as COO. Poole also worked for FTI Healthcare and was CEO of Bayshore Medical Center in Pasadena, Texas. BRCH is searching for a new chief medical officer and chief nursing officer.
The hospital suffered a $110 million loss for the fiscal year ended June 30. It subsequently announced layoffs and the cancellation of its academic affiliation agreement with the University of Miami and Florida Atlantic University, along with its $640 million plan to build a teaching hospital.
BRCH said the loss was caused by the canceled hospital project, decreased Medicare reimbursement, trouble with billing and collections, and losses in chemotherapy operations. Another problem, said BRCH Chairman Richard Schmidt, is that the hospital's expense base was built to handle 21,000 patients a year, with expectations to grow admissions 2 percent a year. However, BRCH's admissions have declined to about 18,000 a year, Schmidt said.
The nonprofit's board did not respond to the declining admissions fast enough, he said. "We were slow to react because we were so focused on the new hospital," said Schmidt, who had pledged a $75 million donation to the hospital project on behalf of his family. Despite the losses, which included a $28 million loss in fiscal 2007 amid losses from Medicare audits, BRCH still has $140 million in reserve.
Rick Van Lith replaced Gary Strack as CEO in January, but now Fedele is charged with turning around the hospital's financial results. Fedele said he would start by improving the billing system, negotiating better deals with vendors and cutting costs. He said layoffs would be a last resort.
Maintaining that "no organization can cut their way to greatness," Fedele said his longer-term goals are to attract more doctors and patients. Its Lynn Regional Cancer Center, a $60 million project slated to open in November, could help it grow, although it will increase the hospital's expenses in the short term.
Achieving those goals will be tough because BRCH is in a competitive area, said Stephen Dresnick, president and managing partner of Rachlin LLP's health care advisory group in Miami. Tenet Healthcare Corp.'s West Boca Medical Center and Broward Health's North Broward Medical Center have larger systems behind them that have more negotiating power with managed care and more financial resources. Boca Raton also has many ambulatory surgery centers that receive similar reimbursements for medical procedures, but have lower overhead than hospitals, he said.READ MORE!
For first time on record South Florida deposits fall .southflorida.bizjournals.com

By Brian Bandell

Every year since the Federal Deposit Insurance Corp. started recording branch-by-branch deposits in 1994, the total amount of deposits in South Florida has increased each year – but not in 2008.Total deposits in all South Florida branches fell to nearly $146.1 billion on June 30, down almost $3.6 billion, or 2.4 percent, from a year ago. That came despite seven more institutions and 35 branches opening in the region over that time.

From 1994 through 2007, South Florida deposits increased an average of $6 billion a year. With the region's population growing and many deposits gaining interest through savings or certificate of deposit accounts, it would be expected that they would grow every year.

It's hard to use the market deposit data as a barometer of a regional economy, said Ross Waldrop, a senior banking analyst at the FDIC. That's because large national banks sometimes move deposits from local branches to their headquarters.

"The deposit changes at Wachovia or Bank of America that are driving the market [in South Florida] are rounding errors for these institutions," Waldrop said. "If wealth declined, you'd expect to see lower deposits across the board."

He noted that deposit totals increased nationally. The fact that this is the only time deposits declined in South Florida after 13 straight years of growth is significant, said Jack McCabe, CEO of Deerfield Beach-based McCabe Research & Consulting. It's an indication that people are strapped for cash, cut off from credit and unable to build their savings, he said.

Miami-based bank analyst Kenneth H. Thomas said the deposit decline in South Florida is attributable to the struggles of several large banks and an apparent accounting move at Regions Bank. The Regions Bank branch at 2800 Ponce de Leon Blvd. in Coral Gables lost about $2.9 billion in deposits, which caused the bank's total South Florida deposits to fall $2.3 billion over the year. Thomas speculated that Regions Bank moved the deposits from its Coral Gables branch to its Birmingham, Ala., headquarters for accounting purposes. A Regions Bank spokesman did not return a call for comment.

Regardless of the movement at Regions Bank, other large banks saw their deposits fall in South Florida. Wachovia, the region's biggest bank, had deposits fall $880 million, or 3 percent (accounting for the acquisition World Savings Bank over that time). Bank of America remained second largest, but it lost nearly $1.3 billion in South Florida deposits, or 5.5 percent.

Miami-based Ocean Bank saw $916 million of its deposits, or 18.1 percent, disappear over the year. Cleveland-based AmTrust Bank lost $843 million in South Florida deposits, or 12.6 percent. South Florida deposits fell $418 million, or 11.3 percent, for Montgomery, Ala.-based Colonial Bank.

Other banks that lost more than $100 million in South Florida deposits include Fort Lauderdale-based BankAtlantic, Palm Beach-based Lydian Private Bank and Safra National Bank of New York.READ MORE! Florida is U.S. cruise capital southflorida.bizjournals.com

Florida leads the nation, not only in the number of passengers leaving on their cruises from the state's ports, but also in the number of residents who take cruise vacations, according to a study commissioned for Cruise Lines International Association.

The study found that North American cruise industry contributed $6.06 billion in direct spending to Florida's economy in 2007, up 3.6 percent from the previous year. That spending generated 126,546 jobs and $5.2 billion in income.

Last year, nearly 5 million people boarded cruise ships from one of five Florida ports – Miami, Port Everglades, Port Canaveral, Tampa and Jacksonville. Floridians made up nearly 2.3 million, or 25 percent, of all U.S. resident passengers. Among other key Florida findings:

• Florida's tourism-related businesses – such as travel agencies, airlines, hotels, restaurants and those that provide ground transportation – were the main beneficiaries of the cruise industry's $6.06 billion in spending, receiving $2.4 billion.

• An additional $835 million was spent with businesses in the following sectors: food processors, chemical manufacturers, advertising agencies, management and technical consulting companies, and manpower agencies.

• Florida continues to have the nation's top three ports for passenger embarkations: Miami, Port Everglades and Port Canaveral.

• Port embarkations in 2006: Miami (1,893,000); Port Canaveral (1,298,000); Port Everglades (1,289,000); Tampa (367,000); Jacksonville (130,000).

• Florida benefits as the primary home to cruise line headquarters for the top three cruise companies that own three-fourths of the North American industry cruise capacity: Carnival Corp.,& PLC, Royal Caribbean Cruises, and NCL Corp, Overall, these three companies employ more than 14,500 people representing 40 percent of the cruise industry employment in the U.S.

Nationally, cruise line and passenger spending generated $38 billion in gross economic output, a 6.4 percent increase over 2006, and generated 354,700 American jobs paying $15.4 billion in wages and salaries. Direct spending by cruise lines, their employees and passengers totaled $18.7 billion.READ MORE!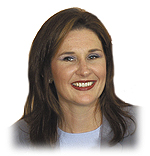 Darcie Lunsford's Hair Services provided by:
Wild Hare Salon and Spa | 2120 St. Andrews | Boca Raton