Video Sponsored by:

Shady-Shutters.com

New Office Depot headquarters debuts
SouthFlorida.BizJournals.com
Office Depot on Friday unveiled its new 625,000-square-foot facility in Boca Raton, one of the largest headquarters to open in recent years.
The office supply retailer moved corporate staffers from its longtime 566,852-square-foot Delray Beach campus on Congress Avenue to the new 28-acre campus in the Arvida Park of Commerce last month. Office Depot sold its Delray Beach facility to Dallas-based real estate developer Lincoln Property Trust in 2007 for $80 million.
It is now leasing the new $210 million, custom-designed headquarters, developed in a joint-venture between Flagler Development Group and retirement fund TIAA-CREF. The move comes at a time when the company has been shuttering underperforming stores and looking to trim corporate staff.
In December, Office Depot said it was closing 112 retails stores in the U.S., leaving it with 1,163 stores. In June, the chain announced its intentions to reduce its headquarters head count through a voluntary separation program. On Friday, a company spokeswoman said Office Depot still employed about 2,000 corporate staffers. MORE SouthFlorida.BizJournals.com

Survey says: Public skeptical about national stimulus
SouthFlorida.BizJournals.com
Local governments are lining up to seek $7 billion in stimulus money, but the South Florida Business Journal Biz Pulse survey show skepticism about a national plan. Just over a third of our respondents thought a possible $1 trillion nationwide stimulus would be a boon for the economy, while a slightly larger amount thought it would be a boondoggle. One-fourth of respondents were unsure if it would work.
A Jan. 16 Business Journal article indicated the wish list of projects in the region would cost taxpayers $67,147 for each job being generated. None of those leaving comments explained why the spending might be a boon to the economy, and most were skeptical or hostile to the idea.
"One must always ask, 'What are these guys' qualifications?' Zero!" Howard Butler said. "These are not business guys. These are basically nitwits who have to answer to bigger nitwits – namely their voter base."
Robert Bonds said: "At best, those in heavy construction who have been laid off or have had their hours cut will be called back to work. That is not job creation. MORE SouthFlorida.BizJournals.com

Where South Florida's wealthy live
SouthFlorida.BizJournals.com
South Florida is known worldwide for affluence, and our special report on the region's wealthiest ZIP codes provides a peek over the hedges and beyond the gated drives. Readers will find the lifestyles of the rich and famous are somewhat intact, but even our wealthiest areas face challenges in this economy. Writer Jeff Zbar profiled the top ZIP codes in each county, detailing their features, why some residents chose to move there and the changes they are experiencing.
Our Top 25 list on Page 18 was compiled with help from ESRI, a Redlands, Calif.-based company that provides geographic information. ESRI's Tapestry Segmentation provides descriptions of each ZIP code's area
Palm Beach (33480): Not like the rest of South Florida

Christian Angle has two perspectives on the city and island of Palm Beach. He's a licensed real estate broker servicing high-net-worth clients along this 13-mile stretch of barrier island. Here since the late 1990s, Angle has seen the community and its reputation as an exclusive real estate location thrive.
Angle – a Boston native who vacationed here as a teen – is also a resident of 33480. He remembers hearing the tales and lore of the elite who made this their winter playground. And he still sees it similarly today, he said. Palm Beach is home to six private country clubs, "one more exclusive than the next," homes that top $1,000 a square foot, and a winter season that boasts "social events that are nonstop. "It's a very exclusive ZIP code that lives like a private club," he said. "It's difficult to tell people why a $75 million home here would cost $5 million someplace else."
Palm Beach stands alone as the wealthiest ZIP code in the tri-county region. The average home value is $769,435. It has 6,215 households, with few new residences built since the most recent subdivision, the 18-home Phipps Estates, was built out 2003, according to real estate research firm Metrostudy. Some condominiums have been built in the past four years: 116 units started in 2005, with 79 more units started in first quarter 2008, Metrostudy noted. Most new-builds, Angle noted, are tear-downs. And the town is always an active and sought-after real estate market – one that's often insulated from economic or real estate situations, said Jack McCabe, CEO of McCabe Research & Consulting in Deerfield Beach. Foreclosures have occurred on the island, he said, as have price slides or the time properties have spent on the market. "It hasn't been bulletproof," McCabe said, "but it has been somewhat insulated."
Parkland (33067): A little slice of Americana

When Sharon Phillips and her family decided to move from England to America in 2002 to enroll a daughter in the Chris Evert Tennis Academy, they could have bought a home anywhere in South Florida. They looked in Boca Raton, Delray Beach, and throughout Broward County. Then, a friend mentioned Parkland. Husband Jeremy looked at a half-dozen homes in the area before seeing one in the city's older Cypress Head community.
"We owned it by that evening," Phillips said. With A-rated schools and proximity to much of South Florida, Parkland is a fast-growing bedroom community. With an average age of 33.7 years and an average 3.09 residents per household, the town is growing at 5.3 percent annually – 4.5 times the national average. Since Parkland was built along the northern rim of the Sawgrass Expressway, the highway opened the region and town to quick-paced growth, which has slowed with the falling real estate market.
Yet, this "Boomburb" community's demographics and statistics remain anything but average. With some 8,800 households, the average home value is $562,446. The average net worth is $1.09 million. Unlike communities to the east, Parkland and other western neighborhoods are primed for future growth, and are some of the only local communities showing new development, said Brad Hunter, national director of consulting with Metrostudy in West Palm Beach.
Development in 33067 – one of several ZIP codes represented in Parkland – has fallen off sharply with the current cycle, and the city holds an oversupply of existing homes, he said. From a peak of 319 starts in the second quarter of 2005 and 213 closings in the fourth quarter of that year, the ZIP code in last year's third quarter had 11 starts and three closings. It had an 18.2-month home supply on the market, Metrostudy noted.
Shelley Jacoby
13647 Deering Bay Drive
Coral Gables, FL 33158
305-299-4318 (cell)
305-233-6100
Southeast Miami-Dade (33158): Old, then new again

Shelley and Joe Jacoby raised a family in southern Miami-Dade County, just on the lip of Coral Gables. Longtime residents of Pinecrest, when their nest grew empty and the time came to move to a smaller home, they didn't look far. The couple relocated a few miles away to Deering Bay, a gated community on Biscayne Bay – and one of the only new developments to go up in 33158 in recent years.
"It was close to the home and lives we'd already built for ourselves," Shelley Jacoby said. The "Wealthy Seaboard Suburb" community they found boasts average home values of $735,774 and 2,281 households with an average size of 3.01. Disposable income is $153,684, and average net worth is $1.48 million. These points, among other attributes, define upscale markets – and the people who look to live there, said Lewis Goodkin, principal of Goodkin Consulting, a Miami real estate consultancy.
There's strong user demand, active sales with short periods on the market, and established value in the community, he said. With little likely speculation in the market, residents in these communities tend to be corporate executives or established entrepreneurs, "with a sense of security, good value and very much in the market," Goodkin said. "People are more focused when they look at high-end properties," he said. SouthFlorida.BizJournals.com First reported on SouthFloridaBusinessJournal.com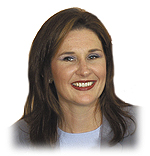 Darcie Lunsford's Hair Services provided by:
Wild Hare Salon and Spa | 2120 St. Andrews | Boca Raton

South Florida Business Journal
ARCHIVES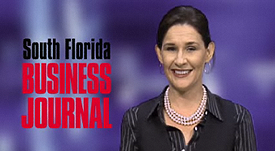 South Florida Business Journal Archives
SouthFlorida.BizJournals.com.